COVID-19 Safety- KFP Session Precautions
How I'm keeping both you and I safe during your KFP session
Now, more than ever, some things are vitally important to ensure a safe environment. There are certain safety precautions for COVID-19 safety- some I have always done, and some new ones I'm adding- to protect my precious clients and their families, as well as myself and my family. I look to not only meet, but exceed safety and sanitary expectations. I would much rather be overly cautious than risk anyone's health.
Here are some of health measures I will be taking for COVID-19 safety for ALL SESSIONS:
KFP policy states that we reschedule your session to another available date, without penalty, if you or a family member are sick. I'm very flexible and understand that illness can happen last minute. I look forward to seeing you on a day everyone is feeling better. With this in mind, please contact me to reschedule if you, or anyone in the family, have had any symptoms of illness in the 48 hours before your scheduled session.
Sessions are always scheduled by appointment only, so it will only be you/your family at your session.
Sessions will be restricted to only immediate family members/those in the pictures.
I will be wearing a mask during our session.
I will have wet wipes/hand sanitizer that I will use throughout the session.
Any prop/fabric used will be washed/cleaned/sanitized after every session.
---
Specifically for OUTDOOR SESSIONS (in addition to the above):
I will be using a long lens to ensure a safe 6′ distance.
I will now avoid any personal contact. I was sometimes right up near you- helping with posing, fixing hair/outfits, etc. I will still help with posing by directing from a distance.
Only one session will be scheduled per day.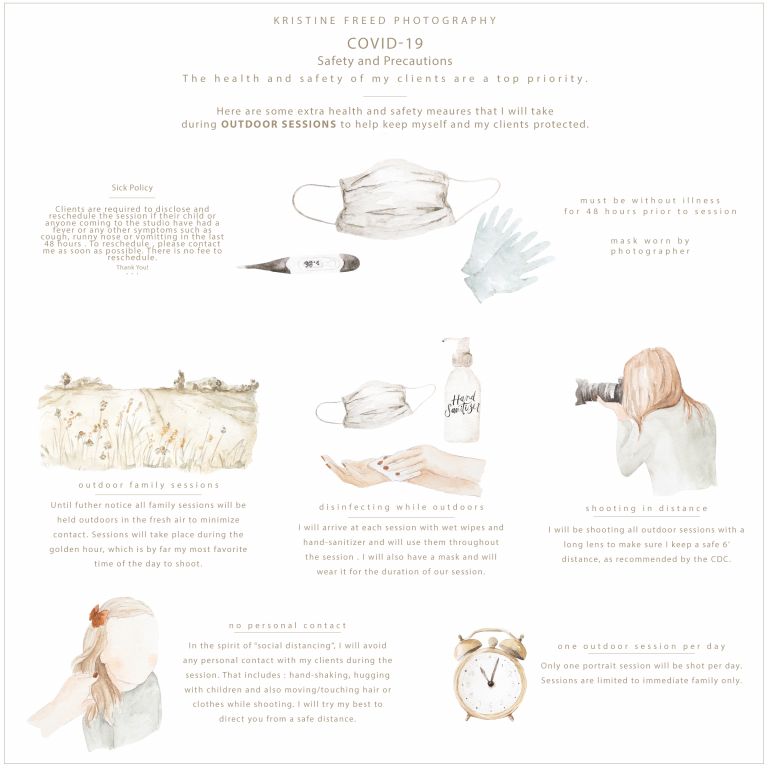 ---
Specifically for NEWBORN SESSIONS (in addition to the above):
In addition to me washing, I will ask that you wash your hands upon entering.
No shoes will be allowed if a studio session. I will ask that you please remove your shoes upon arriving (feel free to bring/wear a comfy pair of socks).
No outside props will be used, only those I have/provide.
In addition to all props/fabrics being cleaned, I will also wipe down every hard surface and doorknob to sanitize the studio.
48 hours will be scheduled between all studio sessions.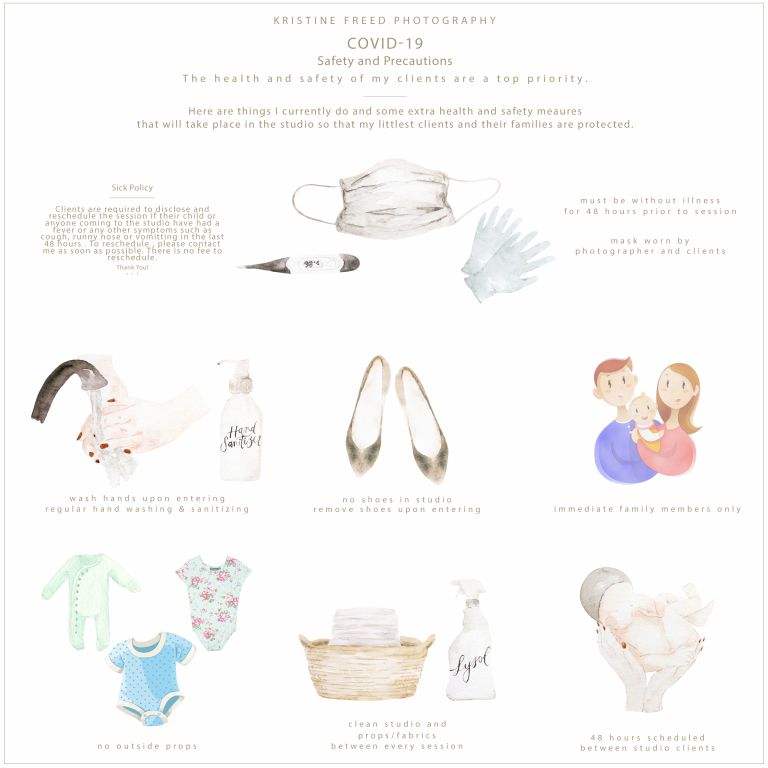 I hope these precautions make you feel more confident in scheduling a photography session with KFP during this crazy time.
Stay safe and healthy!
Contact me for info to learn about your own KFP session.